bookings


band calendar


gig enquiries

gigs


gig guide


gig archive


book the band


live pics
releases


shop


Wurz 'Ee II


Get Orf My Land!


Stuff The Mangledwurzels!
press


press pack


press coverage


publicity pics
gallery


latest pics


band pics


live pics


fans gallery


video gallery


send your pics
Please note
- this is not the official website for The Wurzels. If you want to book The Wurzels, contact the band's manager Sil Wilcox through
official Wurzels website
.
playing live at
Shepton Mallet Conservative Club
Saturday 13th March 2010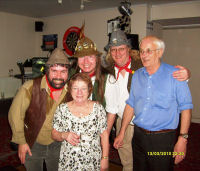 The Mangledwurzels with organisers Daphne and Terry Moody
thanks to Daisy Cutter for the photograph

Wurzels Tribute Night

Open event; all welcome. The Mangledwurzels will be performing from 9pm.

Tickets £3.50 direct from the club.

Venue Info

Shepton Mallet Conservative Club, 29 High Street, Shepton Mallet, Somerset BA4 5AQ.
return to top of page