Get Orf My Land!
Loose Records (LSECD93), issue: 30 Jan 2009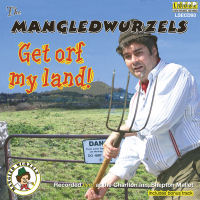 Get Orf My Land! (LSECD93) is the debut album by The Mangledwurzels, remastered and re-issued with a bonus track on Loose Records. It is now only available as Download.
The album was recorded live on the 25th November 2006 at the Charlton Inn in Shepton Mallet (Hedge Cutter's local), and produced by Will Angeloro of Handsome Llama studios in Frome. It was originally released at the band's gig at The Bell Inn in Shepton Mallet on 9th February 2007 on the band's own Somersetmade record label (MWCD001).
The original nineteen-track album has now been deleted and superceded by this remastered version with a bonus track released on the Loose Records label (LSECD93). This was officially released at the 1st Bristol Winter Cider Festival on 30th January 2009.
Get Orf My Land! is now only available as Download from iTunes, CDBaby, Amazon.co.uk and Amazon.com, or to hear on Spotify and Napster.
Track listing
1. Combine Harvester (Brand New Key) [Safka, O'Shaughnessy] 3:04
2. Drink Drink Yer Zider [Barter, Barter] 1:57
3. Cider Be Good For 'Ee [Blades, D. J. Sampson] 3:20
4. Twice Daily [Cutler] 4:02
5. Chitterlings [Cutler] 4:22
6. I'll Never Get A Scrumpy Here [Welch] 2:34
7. Valleys Girl [Blades] 2:13
8. Pill Pill [Cutler] 3:01
9. Don't Tell I, Tell 'Ee [Sheldon, Crozier] 2:33
10. I Got Me Beady Little Eye On Thee [Budd, Owen] 2:46
11. I Wish I Was Back On The Farm [MacDougal] 2:41
12. The Rat Song [D. J. Sampson] 3:44
13. Keep Yer 'and On Yer A'penny [Glasgow] 3:08
14. The Champion Dung Spreader [Cutler] 2:38
15. Drink Up Thy Zider [Cutler] 2:59
16. Farmer Bill's Cowman [Greenaway, Cook, Banner, Budd, Baylis] 3:10
17. I Am A Cider Drinker [Bouwens] 3:03
18. The Blackbird [Bayliss, Banner, Budd] 2:56
19. Beta Vulgaris Vulgaris (The Mangold-wurzel) [D. J. Sampson] 1:06
20. I Can Drive A Tractor [Blades] 3:30