Wellie Bootleg
released on Somersetmade Records (MWCD004) 13th May 2015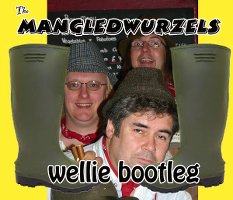 Wellie Bootleg is a compliation of 'lost songs' by The Mangledwurzels, and has been released on the 13th May 2015 - to mark ten years since the band's first ever live gig.
These eight songs were recorded at the same time as the live album Get Orf My Land! album, but for contractual reasons, the band were unable to include them on the album. Now, due to a change in the law on parody songs, The Mangledwurzels can release the eight missing songs - many of which form part of the band's live set.
The Wellie Bootleg is available to download from The Mangledwurzels' BandCamp site.
All the music was recorded live on the 25th November 2006 at the Charlton Inn in Shepton Mallet, and produced by Will Angeloro of Handsome Llama studios in Frome.
Track listing
1. Speedy Gonzalez [Kaye, Lee, Hess]
2. The Knackerer [Maresca]
3. Stuck In The Middle (with Poo!) [Rafferty, Egan]
4. Walking 'Cross The Yard [Sumner]
5. Pitchfork & U [Oakman, Beveridg]
6. Morning Glory [Fletcher, Flett]
7. Scrumpy Jack [Daly]
8. Get Orf My Land! [Jagger, Richards] / Beta Vulgaris Vulgaris (The Mangold-wurzel) [D. J. Sampson]